Where do we grow from here: Updates, info on Tulsa construction sites for 2016, 2017
TULSA – With so many Tulsa streets under construction, it can be easy for drivers to lose their way around town but the frustrations could soon be over.
Earlier this week we discovered that more road work is starting along Sheridan between 81st and 91st streets. This new project is just one of the 43 open road improvement projects in Tulsa.
The number of projects not completed pales in comparison to the 274 already completed, however.
The money for the projects stems from the 2008 "Fix Our Streets" and 2013 "Improve Our Tulsa" bonds.
Field engineering manager Britt Vance says they've stayed on schedule for the most part.
"Once they get underway from time to time you'll have delays for weather or other things, and we try to account for that. If they don't meet their deadlines then the contractor usually has to pay a penalty."
Some of the projects expected to be completed soon include the project at 21st Street between Utica and Yorktown for October. The 61st and Memorial intersection should be completed by mid-November 2016 and the Riverside Drive project from 41st to 35th is expected to be completed by December 2016.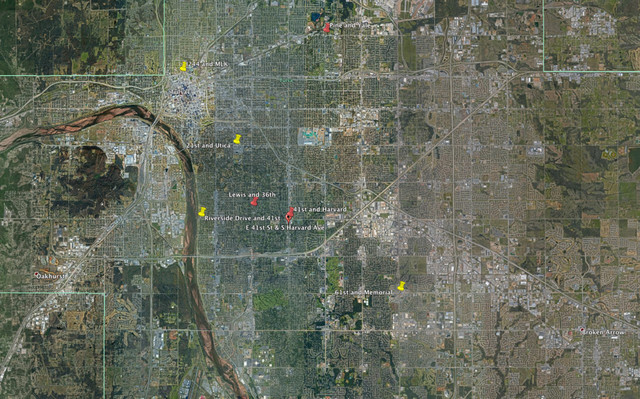 The MLK and Detroit from Interstate 244 project to Jasper should be completed by 2017.
After those projects are completed, the next round will start to begin.
One project will be on Lewis from 36th to 46th North starting sometime in December. Then another at the Pine and Yale intersection is expected to start in January 2017.
When the project at 31st and Harvard is completed, another project at 41st and Harvard will take its place.
Vance reminds drivers to be mindful of the construction zones, and to have patients to let the workers work.
"People are speeding, or they're on their cell phone, or they're not really paying attention to the signage, and what they can and can't do, you could get into a bad situation real fast."
Stay in touch with us anytime, anywhere.
Download our free app for Apple and Android and Kindle devices.
Sign up for newsletters emailed to your inbox. Select from these options: Breaking News, Severe Weather, School Closings, Daily Headlines and Daily Forecasts.
Inside Washington: Decode DC Blogs