Six-year-old makes speedy recovery after snake bite at Elk Creek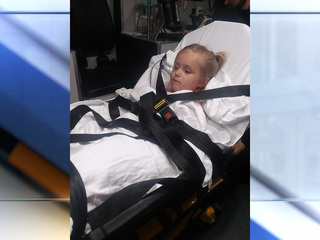 COOKSON, Okla. -- A six-year-old was released from the hospital on Monday after a speedy recovery from a snake bite.
She was bitten while swimming at Elk Creek over the weekend.
It all started when Aubrey was swimming and began complaining of pain. But it wasn't until 30 minutes later that her mom noticed two bite marks, an inch apart on the side of her right foot.
The Patton family went to the lake to celebrate Aubrey's last day of school on Friday. Her mom said the kindergartener immediately ran and stuck her foot in the water, quickly yelping in pain.
But when Aubrey's mom asked what happened, the six-year-old shook it off and was soon swimming with her brother. When Aubrey's father saw her foot, it was swollen and leaking venom.
"It was hurting. It was bleeding. And I was walking over there with my dad, trying to go over to my dad," Patton said.
Aubrey's parents rushed her to the hospital. Doctors determined it was a cottonmouth snake bite. Over the last three days, Aubrey's blood was tested and injected with anti-venom 18 times to bring down the swelling.
Doctors said they're relieved the family caught it quickly. The foot could have required amputation if left alone for a longer period of time. The Pattons said they've been playing in Elk Creek for years, and never would have imagined this could happen.
Stay in touch with us anytime, anywhere.
Download our free app for Apple and Android and Kindle devices.
Sign up for newsletters emailed to your inbox. Select from these options: Breaking News, Severe Weather, School Closings, Daily Headlines and Daily Forecasts.