Local architect has $300,000 in valuables stolen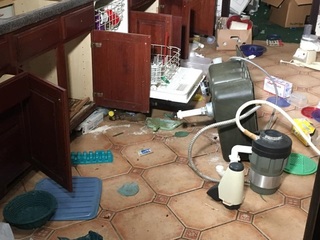 TULSA -- Heartbreak for a local architect after burglars broke into his office and took $300,000 worth of valuables.
Tulsa police filled a report Monday afternoon. But it could remain a mystery after thieves shattered the glass on the back door, broke in and removed all of the surveillance cameras.
Amidst the chaos, Leon Ragsdale finds beauty in the everyday.
"They went in and tore up the walls to get to the copper piping," Ragsdale said. "I feel I've been given a chance to help people."
The longtime architect and humanitarian says he was flabbergasted at the sight.
"Look what they did," Ragsdale said. "They clipped the electrical off and took all of the electrical out of there and took the piping off and tore that out to get to a few dollars worth of pipe."
The 81-year-old hosted a group of Haitians to discuss ways to improve the country and claims he hadn't checked on this building since Thursday.
"Everything I had of any value and they're coming back," Ragsdale said. "This is what we need to stop in Tulsa."
Sentimental items gone like his mother's paintings.
"To them that's not a valuable thing but to me it is," Ragsdale said.
Up the stairs, his beautiful view of Tulsa ruined by the mess.
"The equipment is gone, my computer is gone and my printer that I have one left is gone and not hooked up," Ragsdale.
The culprit left a trace behind.
"That was sprayed on a perfectly good mirror," he said.
Now, Darrell Milligan is on the lookout.
"I'll spend some time and maybe stay here for awhile if I need to," he said.
Thieves if you're listening, Ragsdale has a message for you.
"They'll get caught if they come around here," he said.
Stay in touch with us anytime, anywhere.
Download our free app for Apple and Android and Kindle devices.
Sign up for newsletters emailed to your inbox. Select from these options: Breaking News, Severe Weather, School Closings, Daily Headlines and Daily Forecasts.