Broken Arrow Embers Grille employee speaks out after Lighthorse police raided restaurant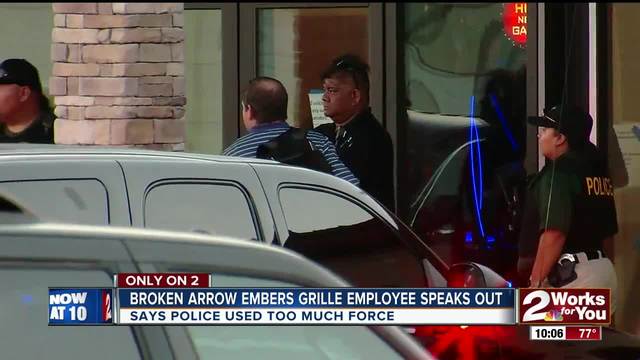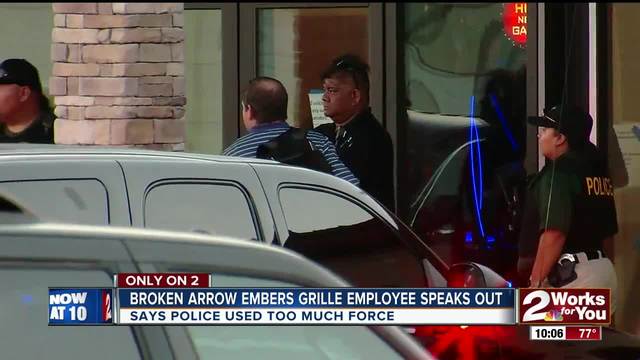 BROKEN ARROW, Okla. - A woman is speaking out after she said she was inside of the Embers Grille working when police raided it for illegal gaming Wednesday night.
"I had just closed out to walk into the facility when I look up and I see about 60 all black cars," recalled Red Creek Holdings and Embers Grille Employee Keilani Rolls.
It looked like a crime scene as officers carried items to their vehicles.
"It's now not just about a restaurant, or who has jurisdiction, now you're violating my personal space."
And Rolls said police treated her like a criminal.
"Having four men run at you and point guns to your head. You're just paralyzed."
Landowner Steve Bruner was the only one put in handcuffs after police said they found gaming machines inside.
Rolls was escorted to her car by men with weapons.
"I let them know I was not a tribal member, that they had no jurisdiction to take my personal belongings and they chose to ignore that."
The issue of jurisdiction spans years in this area because the Kialegee Tribe has tried to open restaurants with gaming in an area that's against it.
"As a citizen of Broken Arrow I hope that no one else wants to game here at this point," said Broken Arrow Mayor Craig Thurmond.
During the raid residents gathered outside the building to celebrate.
"Justice is prevailing. A lot of people have worked very hard for this. The city of Broken Arrow deserves so much credit," said Broken Arrow resident Diana Coscia.
Gaming is illegal in Broken Arrow, but this land is sovereign.
The Creek Nation and city of Broken Arrow claim it is in the Creek Nation's jurisdiction, and without their permission gaming can't happen.
"It's an absolutely legal gaming facility just like any other one here," Rolls said.
She said her employer Red Creek Holdings covered all of its bases.
"We thought we were doing everything legally right and that would be enough."
She said people who disagree are entitled to their opinion, but Red Creek Holdings and the Kialegee are entitled to their restaurant.
"At some point you just realize you have to fight for what's right or not."
The Kialegee Tribe's attorney did not return requests for comment, but the Creek Nation said its officers acted according to their training.
Rolls said Red Creek Holdings has attorneys fighting this and they still plan to move forward with the restaurant.
The landowner Steve Bruner who police arrested appeared in court Thursday morning after spending the night in jail.
The judge plead not guilty to his charges for him, and he was able to post bond.
He's set to be arraigned next month.
Stay in touch with us anytime, anywhere.
Download our free app for Apple and Android and Kindle devices.
Sign up for newsletters emailed to your inbox. Select from these options: Breaking News, Severe Weather, School Closings, Daily Headlines and Daily Forecasts.
Inside Washington: Decode DC Blogs