Brett's Weather Blog: A Black Friday shopping special forecast
Happy Thanksgiving,
If you are reading this on Thanksgiving, I hope you are having a great holiday. If you are checking out this forecast on Friday, then I want to wish you a wonderful Thanksgiving weekend.
So here it is one again, the biggest shopping weekend of the year. We have prepared some forecasts tailored to your shopping times around Green Country.
Lets start with Utica Square. Some of the shops are open Thanksgiving Night for a few hours. So here is a look at the forecast for Thursday evening and then Friday morning for Utica Square at 21st & Utica.

Mobile users -- http://bit.ly/1cANjAr
Some of the stores at Woodland Hills Mall will open Thursday evening. There is also midnight shopping, so below is the forecast for Thursday night and overnight into Friday morning.

Mobile users -- http://bit.ly/1eEeyvQ
Most area shopping centers, like the Promenade at 41st & Yale, have extended shopping hours through the holidays. Below's a forecast for the Promenade and Tulsa Hills.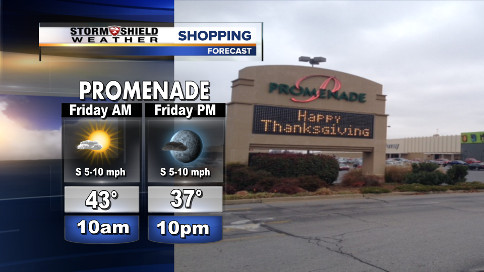 Mobile users -- http://bit.ly/1bsF6S3

Mobile users -- http://bit.ly/1b29vnt
One of the great places to shop in Tulsa includes a little bit of country in the city. The Farm at 51st & Sheridan will be open Black Friday for Shopping,  and should feature some sunny and mild temps. 

Mobile users -- http://bit.ly/1aZ8qxF
At last but not least, if you live in Owasso, there are a lot of great places to master your holiday shopping.  Here's the forecast for Owasso for Friday.

Mobile users -- http://bit.ly/1aZ8tth
Happy Shopping!