Brett's Weather Blog: Warmer days ahead!
Good Morning,
Temperatures this morning are in the teens in many backyards. We had maximum cooling last night. A long, clear night, calm winds and a cold air mass. It added up to bring us a hard freeze and put an end to the growing season. 
WHO IS READY FOR A WARM UP?
If you are ready for a return to warmer temperatures, you came to the right place. We will begin to thaw out later today thanks to a return of southerly winds. Notice on the surface map below, that the center of the cold high pressure system shifts away from Green Country allowing our winds to return to a more favorable direction for warmer air to flow into NE Oklahoma.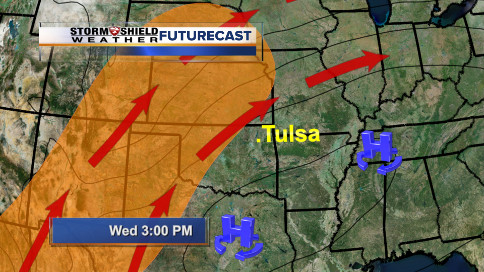 Mobile users can view the map here --http://bit.ly/HUbYXt
The warm-up will continue and will only get stronger as a storm digs into the Southwestern U.S.! You can see the set up on the map below.

Mobile users can view the map here --http://bit.ly/1fC6QTe
When storms "dig" or move into the desert southwest, winds at the surface over Oklahoma typically turn to the south. This brings in warmer and more humid air.
The "Jet Stream" is now strengthening as we head toward winter. Often these storms will drop into the Southwest and race out into the central plains. 
That is what happens this weekend. Saturday's southwesterly flow will yield high temperatures in the upper 60s. Then on Sunday, the storm begins moving into the Rockies and as it deepens it pulls much warmer air over Texas and Oklahoma and our highs on Sunday race into the low to mid 70s.
So if last night chilled you to the bone, don't worry, we will thaw out and thaw out quickly.
Have a great Wednesday,
Brett