NFL Week 8 picks, predictions: Big Al with his winners and losers, and discusses the Dallas Cowboys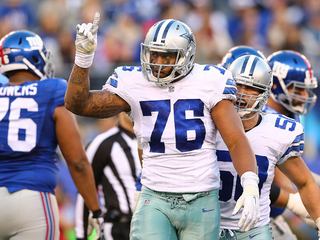 How does Jason Garrett stand it?
How does he put up with all the fools that make up the Dallas Cowboys. I know. I know. His paycheck is better than most of ours, but still there is the sanity to take care of.
Jason Garrett is a bright football mind, a Princeton grad. Cool, calm and collected on a team full of fools.
He has a lot going for him. He could be a great coach anywhere else. I would love to have him take over for Tom Coughlin and the Giants when Coughlin decides to retire.
This latest tirade on the part of Greg Hardy slapping clip boards from special team coaches in the middle of a game is inexcusable. He missed a practice earlier in the week, by the way. And he gets excused. In fact, Jerry Jones called him an inspiration. Garrett had to go in front of the media and basically say the same thing, but I know he didn't mean it. He is too smart to upset the apple cart in such a delicate situation when an owner hires a bunch of clowns to play football.
I thought it was quite funny to see Dez Bryant act as peace-make. Please. The acts of Byrant and now Hardy on the sideline is an insult to the intelligence and the efforts of the teammates that try hard, play through pain, and are treated as if they don't care as much as those who go nuts on the sideline. I'm sure Jason Witten, who plays with broken bones and sprained ankles and headaches and still plays as hard as he can, has to listen and make excuses for his off the wall teammates, and boss Jerry.
Said my peace. I don't know how my friends who are Dallas Cowboy fans stand all the nonsense, I really don't.
Now for the picks!
Miami at New England - Miami is obviously much better with coaching change, and this is going to be a good game, but the Pats seem to be on a roll, and cherish the challenge. "Us against the World" works for these guys. New England wins, but it's a battle, 27-21.
Detroit at Kansas City - Chiefs proved they still have heart by beating Pittsburgh last week, something the Lions do not have. In the Wizard of Oz, the Lion didn't have courage, the Tin Man didn't have a heart. These Lions could play both rolls with Dorothy. No heart, no courage. Chiefs win, 23-14.
Tampa at Atlanta - Did Atlanta lose the offense, all of a sudden. What's with just 10 points last week? Falcons start flying high again, beat Tampa, 34-13.
Arizona at Cleveland - Zona back on track. Lake Erie about ready to freeze, so is the Dawg Pound. Cards win after Monday night victory. Palmer back to being good QB again, something that has been missing in Cleveland for centuries. Arizona, 23-12.
San Francisco at St. Louis - 49ers have fallen to an all-time low. Rams really not that bad. STL, 33-21.
NY Giants at New Orleans - Manning did a disappearing act against Dallas, which was a good thing, and NY won. New Orleans may be getting some mojo back, but taking Giants because…well, just because. Nice reason. Giants, 37-34.
Minnesota at Chicago - Will Vikings ever figure out how to use Peterson? What's with AD on the sidelines on 3rd downs? Here is another pick that doesn't make much sense. Bears in upset, 23-17.
San Diego at Baltimore - The Ravens cannot be this bad. Impossible. Yet they are 1-6. Chargers did the disappearing act last week versus Oakland. Ravens finally win one,19-17.
Cincinnati at Pittsburgh - So much for Landry Jones being a starting QB in the NFL. His play magically got Big Ben healthier all of a sudden. Steelers in upset. Cincy undefeated no more. Season catching up to Bengals. Pittsburgh, 17-13.
Tennessee at Houston - You got it. The "no comment" of the week game. Texans win, 6-3.
NY Jets at Oakland - This is not the AFL of the 60's. Not Namath vs Lamonica. This is Carr vs Fitzpatrick. Does not have the same ring to it. Raiders in upset, 24-21.
Seattle at Dallas - Here is hoping Seattle returner Lockett returns two kicks for touchdowns. How about those fireworks?! Seattle, 27-14.
Indianapolis at Carolina - Colts are done. Carolina carries on. Panthers, 34-20.
Green Bay at Denver - Great game on paper. Peyton Manning is not the same. Rodgers at an all-time high. Packers to run away at end, despite Denver defense. Packers, 26-16.
Have a great week.