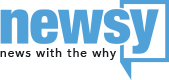 kjrh.com
National News Partner
Google And Amazon's Feud Is Getting Ugly - And Might Affect Customers
The feud between Amazon and Google is escalating, and consumers may soon notice it in a pretty big way.
At the start of 2018, YouTube — which is owned by Google and boasts more than one billion users — will not be available on Amazon Fire TV devices.
SEE MORE: Amazon Could Have Sparked The Merger Between CVS And Aetna
Google made this decision for a number of reasons: Amazon doesn't sell Google products like the Chromecast or Google Home, it won't make Prime Video available for Google Cast and Google claims Amazon violated a Terms of Service agreement by overlaying Alexa voice controls on its YouTube app.
Amazon responded in a statement, "Google is setting a disappointing precedent by selectively blocking customer access to an open website."
---
Trending stories at Newsy.com
The selected web content no longer exists.