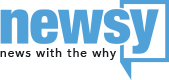 kjrh.com
National News Partner
2 Students Killed In Shooting At New Mexico High School
New Mexico State Police says two students were shot and killed at a high school in Aztec, New Mexico.
The town is about a three-hour drive from Albuquerque. Police say no one else was injured and that the shooter is dead. The San Juan County Sheriff's Office says the FBI and the state police are leading the investigation.
---
Trending stories at Newsy.com
The selected web content no longer exists.