Oklahoma earthquake surge reveals previously unknown fault line, state agency trying to connect dots
LUTHER, Okla. - A day after 10 mid-scale earthquakes rocked central Oklahoma, a series of smaller quakes shook the area Wednesday, with more likely to come.
Five earthquakes ranging from magnitudes 2.5 to 4.4 occurred in a concentrated region of the state, just northwest of Oklahoma City. In the past 72 hours, 14 earthquakes of 2.5 or greater have originated in the town of Luther.
The largest quake, registering a magnitude 4.4, was "felt throughout large portions of Oklahoma and into Kansas and Missouri," according to the Oklahoma Geological Survey.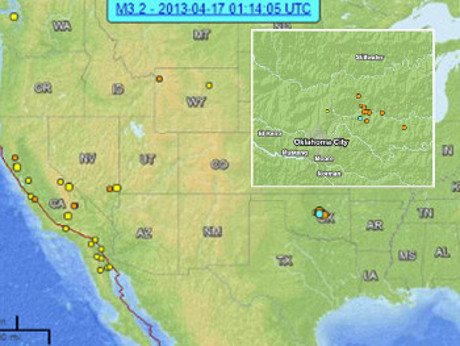 Austin Holland, with the agency, says there have likely been many more that were small enough to go largely undetected. According to the survey, the swarm of earthquakes that have occurred since Monday is in the "few hundreds."
The survey reports the earthquakes have occurred along a previously unknown fault. The agency also predicts the quakes aren't over.
No injuries have been reported as a result of any of the quakes, but the recent surge has clearly gotten the attention of government officials.
Oklahoma National Guardsman met with their counterparts from Arkansas, Indiana, Louisiana and Texas near Braggs Wednesday to conduct emergency earthquake training.
The guardsman simulated a 7.7-magnitude earthquake with the use of specialized equipment, according to the Associated Press.
Austin Holland says his agency is considering every possible reason for the recent swarm of quakes in the state.
Among them, Holland says, is the possibility of man-induced seismic activity. "It's one aspect we're looking at," he said. "Hopefully we'll know a lot more very soon."
Last month, a report from the journal Geology linked oil exploration to a 5.6-magnitude earthquake that rocked Oklahoma in 2010, making it the largest U.S. quake ever to be connected to human interaction and the largest ever in the state.
READ: 'Report concludes 2010 earthquake caused by drilling, water injection'
Seismologists may not know for some time what has caused the influx of earthquakes, but the survey, along with Oklahoma geophysics professor Dr. Katie Keranen, has placed additional earthquake monitoring equipment along the newly hyperactive fault in hopes of getting more answers.