Community storm shelters in Oklahoma: Do they exist and would you use one during severe weather?
FAIRFAX, Okla. - Cindy Young has two energetic, fun-loving little ones.

"My girls are the reason that I get up, I go to work," she said.

There's nine-year-old dog-lover, Madison and eight-year-old Malorie, the playful princess.

"They're the whole world to me," said Cindy.

She says the whole family is close and visit her mom often. She lives just 20 miles away in Pawhuska.

Young says a few weeks ago, "Madison was staying over there. She had been over at the park playing."

But the fun was suddenly silenced by sirens. It was the same day an EF-5 tornado struck El Reno claiming 22 lives. Young thought of her daughters.
RELATED STORY - Tornado touches down in El Reno (http://bit.ly/10OtZco)

"I have one with me that you know you can protect, and I know my mom's doing the best she can with my other one, but you still worry. It's a sick feeling in your stomach waiting on that phone call to know that everything is okay," said Young.

So to seek shelter Madison and her grandmother went to what once was the armory in Pawhuska. A place they say people had gone before to seek shelter, but this time, they say they were turned away.

"I was angry. I was disgusted. It made me sick to my stomach to know somebody would turn away a nine-year-old child and a grandmother," said Young.
RELATED STORY - Which residential safe rooms are the safest? (http://bit.ly/sheltertest)

It was a similar story in Tulsa when a couple said they were turn away from Eastland Mall, as they were trying to seek shelter.
Earlier this month City of Tulsa leaders asked emergency management officials why citizens don't have community shelters in Tulsa. Roger Jolliff of the Tulsa Area Emergency Management Agency responded saying, "We've not had public storm shelter in Oklahoma for many years. An inherent issue with a public storm shelter is how many people can get in; who knows they're supposed to get in; how long does it take to get in."

Both Tulsa city and county leaders say they're opposed to community shelters saying it's not safe to travel during a storm, and it's better to take shelter where you are.

In Dewey County they see it differently.

"Everybody knows in Oklahoma it can drop out of the sky pretty fast," said Dewey County Commissioner Melvin Salisbury.

With that in mind, commissioners, the sheriff and emergency management officials wanted to see something done, so they built a state-of-the art storm shelter. It was finished in the past year.
It can hold 150 people and withstand an EF-5. It's equipped with a generator, seating and a bathroom. It comes in at a price tag of $95,000 or $633 per person.

"Where we're sitting right now, if you're in the town of Taloga and they tell you to take shelter, between the school and this facility there's a shelter for you to be at within a few minutes," said Sheriff Clay Sander while at the county courthouse.

The makers of the shelter say it's a concept they are seeing more across the country.

"While we love to protect people with our residential solutions, we just feel that state governments and municipal governments can get more bang for their buck in terms of protecting their residents by putting shelters in highly, densely populated areas," said Matt Williams with Survive-A-Storm Shelters.

He recommends community shelters in schools, community centers and near mobile home parks.

Still, Williams shares emergency management concerns about travel.
"Residents might be putting themselves in a worse position, in worse peril, trying to travel to a tornado shelter than simply staying in place," said Williams.

Madison and her grandmother ended up taking shelter near the courthouse in Pawhuska in an old structure. The police chief says the armory is now city-owned and not a certified safe place. The chief says despite that, they would never turn anyone away who is in eminent danger and calls what happened a misunderstanding.

Madison and her grandmother were a bit shaken up.

"I was almost crying," said Madison.

Thankfully they are okay. As for Cindy, she says the frightening situation shows the need for community shelters.

"I have two children, and I know if they needed shelter they would have a safe place to go. I mean, how do you put a price on a person's life," said Young.

Tulsa city and county leaders say they don't have any plans for community shelters. It's up to each individual community to decide how it feels about community shelters.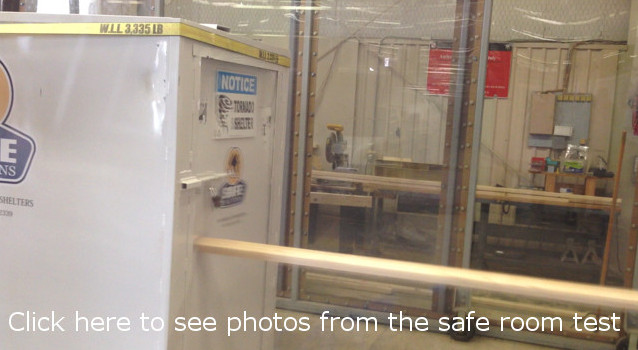 PHOTO GALLERY - Pictures from the safe room test http://bit.ly/testingpics