CRIME STOPPERS ALERT: Robbers storm into north Tulsa AutoZone store, shoot employee
TULSA - It was like any other Monday evening in June for the employees at a north Tulsa AutoZone.
Just before close, the workers got ready to call it a night.
But the store's surveillance video shows their normal night was about to become anything but the norm.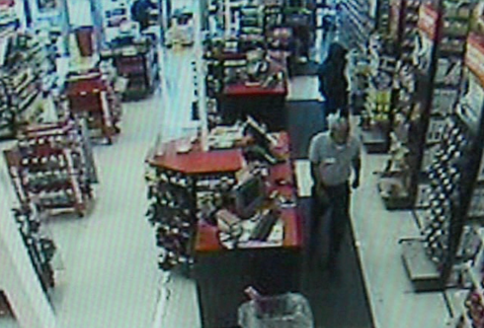 Suddenly two masked men, dressed in black and wearing hoodies stormed into the store.
One of them ran straight toward the worker behind the register.
"When he was grabbed from behind, the first thing they said to him was don't say anything," said Jill Roberson of the Tulsa Police Department.
But the worker, who said he was too traumatized to talk to 2NEWS, fought back.
Seeing the robber is armed with a gun, he turns around and knocks the gun's magazine to the floor.
"So obviously there was no more ammo, but unfortunately there was one round left in the chamber," said Roberson.
That's when the robber fires his one shot hitting the worker in the hand.
"Most robbers yes, they are violent but they're not looking to get into a physical altercation," said Roberson.
And after all of that, the robbers ran out the doors of the AutoZone, with nothing in hand.
"They did come in with a bag," said Roberson.  "They were probably hoping to fill that bag with money."
A month later they remain on the run while the victim's hand heals.
But the emotional wounds, may take much longer.
"This victim, his first instinct was to fight back and ultimately that's what saved his life," said Roberson.
MOBILE READERS: See more pictures of the attempted robbery from the surveillance camera by reading this story on our full site at http://bit.ly/azrobbery
If you have any information or tip that could help police, call Crimestoppers (http://bit.ly/TulsaCrimeStoppers) at 918-596-COPS. You do not have to give your name.
Tips that lead to an arrest could result in a reward of up to $1,500.
MORE CRIME STOPPERS ALERTS
Caught on tape: Man carjacks woman in SUV at midtown Tulsa Walgreens (http://bit.ly/cjsuspect)
Convenience store employee killed in 2011, search for killer ongoing (http://bit.ly/peggygaytan)
Police search for downtown bank robbery suspect (http://bit.ly/ibcbanksuspect)
Man steals computer worth more than $300,000 from engineering firm in Tulsa (http://bit.ly/300kcomputer)
Five years later, hunt for killer goes on (http://bit.ly/markgrace)
18-year-old missing since December 2012 (http://bit.ly/khyre)