CRIME STOPPERS ALERT: Police looking for man who stole $300 speaker from south Tulsa Target store
TULSA - A thief is caught in the act.
The suspect was caught walking out of a south Tulsa Target with something he didn't pay for.
Police say the man showed up at the Target at 101st Street and Memorial on October 23.
The store's security cameras showed he shopped for nearly 30 minutes without putting anything in his cart.
"Which is unusual," said Jill Roberson of the Tulsa Police Department. "You know if you're in a store by this time, you're gonna pick up something that you had gone to shop for."
But then he spotted something he liked -- a stereo speaker worth more than $300.
"We have larceny rings that actually go in for specific items. They have people that want those items who then sell them on Craigslist or Ebay," said Roberson.
When the suspect first tried to steal the speaker he couldn't remove the security device that would have set off the store's alarms. Then he went to make a phone call.  
He came back to the speaker to try again.
This time he successfully removed the device. He then took the speaker and headed towards the front door where the cameras got a good look at his face.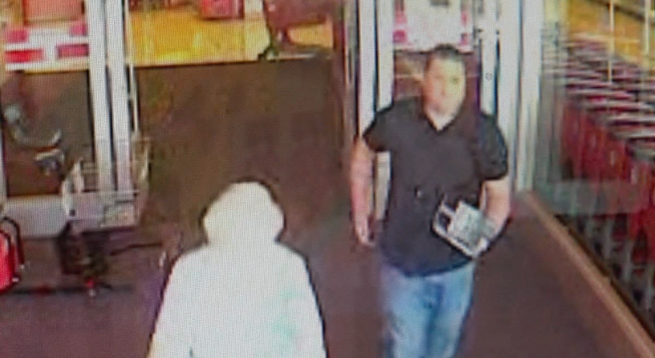 "If anyone does recognize him, please come forward and let us know," said Roberson.
Another camera captured a good look at the suspect's dark colored SUV in the parking lot.
He then drove off with the speaker, without paying a dime.
If you have any information or tip that could help police, contact Crimestoppers (http://bit.ly/TulsaCrimeStoppers) at 918-596-COPS. You do not have to give your name.
Tips that lead to an arrest could result in a reward of up to $1,500.