Student, 15, commits suicide at Coweta Intermediate High School
COWETA, Okla. - Officials with the Coweta school district and area law enforcement have still not released the name of the 15-year-old who committed suicide in a school bathroom despite a makeshift memorial growing outside the building.
Coweta police did confirm the ninth grade boy shot himself, but released very few other details during the day's two press conferences.
Laying at the memorial is a letter, nestled between stuffed animals and a nearby fire hydrant, with the inscription, "You will truly be missed ... RIP Triston."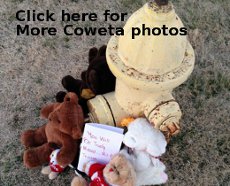 Police were called to Coweta Intermediate High School around 8:35 a.m. Monday, minutes after the his body was discovered, Coweta Police Lt. Donnie Krumshiek said.
" ... We heard what sounded like a locker open and slam," said ninth grade student Dillon Prutch. "And then the teachers started running out screaming 'Call 911!'"
The intermediate school and Coweta High School were both on lockdown for more than an hour after the suicide as parents' cars lined the building.
Classes will resume Tuesday. Grief counselors will be on hand for students and staff.