Opinion: Croatia deserves better fate in 3-1 loss to Brazil
First 2014 World Cup match complete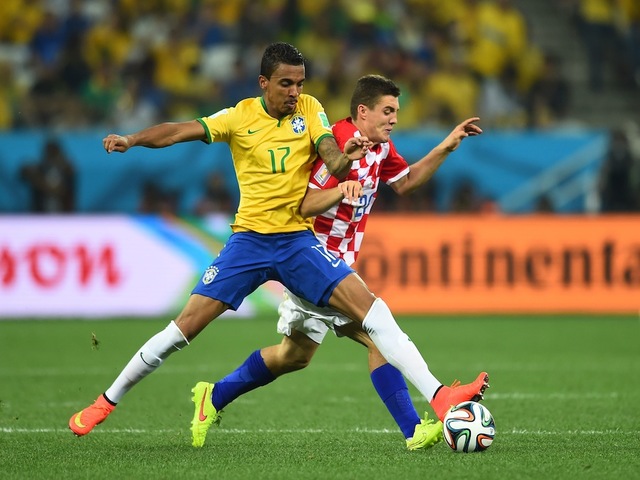 If anyone believed Brazil could simply show up and win the World Cup as the host, they shouldn't anymore.
Croatia scored first and deserved a better fate as Brazil received a weak penalty kick and was fortunate to escape with a 3-1 victory in the opener.
Neymar looked well on his way to having a brilliant tournament by scoring twice, and the hosts seemed to awaken after surrendering an early own goal.
But don't let the final score fool you. Croatia had several quality chances to tie the game late before Oscar's toe poke in stoppage time provided extra insurance.
With automatic qualification as the host country, Brazil hasn't played a meaningful game since blasting Spain 3-0 in the 2013 Confederation Cup finals. Based on that dominant result, some thought Brazil could coast as the tournament favorite.
Instead, Brazil surprisingly came out flat and didn't take the lead until Fred drew a questionable penalty in the 71st minute. It was the first dubious officiating call of the tournament and it won't be the last.
Croatia likely could prove to be Brazil's biggest challenge until the knockout round. After that, the host team will need to look sharper if it's going to obtain a record sixth World Cup title.
Rio de Janeiro's mayor admitted last week it was a mistake for Brazil to have 12 host cities when only eight were needed.
After seeing pictures of the field conditions at Manaus' stadium, which is located in the Amazon rainforest, that claim is definitely validated.
England and Italy play there Saturday, and it's the site of the United States' match against Portugal on June 22. The grounds look brutal and are undergoing emergency repairs courtesy of the humid conditions.
It probably seemed like a good idea at the time for the entire country to be involved. Now let's hope no serious injuries or bogus results arise from the unfortunate situation.
It's amazing that Brazil, the only country to appear in all 20 World Cups, hadn't suffered an own goal in the tournament before Marcelo's gaffe in the 11th minute. Thursday's opener marked the country's 98th World Cup match.

Friday's matches:
Mexico vs. Cameroon — El Tri won't start striker Javier Hernandez, but Mexico really needs three points in its easiest Group A match.
Spain vs. Netherlands — These European stalwarts didn't have to wait long for a rematch of their 2010 World Cup final, a 1-0 win by Spain.
Chile vs. Australia — Chile may not need injured midfielder Arturo Vidal for this game, but his health going forward in Group B is important.
Zach Duncan is a sportswriter for the Wichita Falls Times Record News in Texas. He's also a soccer enthusiast who once spent a couple weeks training in Brazil. He regrettably couldn't find a way to get back for the World Cup.