Sinkholes creating headaches for midtown neighbors, residents blame city sewage pipes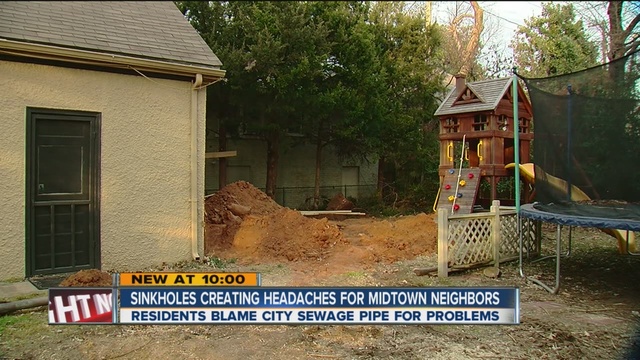 TULSA - Massive sinkholes are damaging a historic midtown Tulsa neighborhood and city crews are working to fix the problem.
"It's just frustrating mostly," explains a resident.
These sinkholes have been showing up in backyards and affecting foundations. Residents are concerned for the safety of their homes but especially their children.
Plumbers covered part of a hole with plywood to keep the children away, creating a construction site in Catherine Aufdenkamp's Maple Ridge backyard.
"The foundation on the whole back corner has fallen into the hole," says Aufdenkamp. "It's pretty disturbing when you find a 9-foot hole in the backyard where your children and pets play, and it's pretty scary."
Aufdenkamp says a city sewage pipe is to blame. Just two doors down, Ryan Sacra has been dealing with similar issues for four years now.
"It's leaning and back, toward the excavation that was done by the city," says Sacra. "The city said it wasn't their fault, they're not responsible for the contractors."
Sacra's garage is tilting that same sewage pipe. He is now responsible for building an emergency wall to keep it standing. He blames the contractor's sloppy work. He has sued for damages, but now a new sinkhole has formed near his garage.
"Somebody needs to step up here and take care of this," says Sacra.
The main sewage line, running from house to house, is run by the city. 2 Works For You Problem Solvers reached out to get something done.
Paul Zachary, the city's engineer, says homeowners should not have to put up with this.
"I can tell you what's going to happen going forward. Those main lines, the city's responsibility, will get fixed."
But some residents believe the damage has already been done.
"It will be well over 10 thousand dollars before we're done," says Aufdenkamp.
The city will address this massive issue starting Tuesday. Crews are set to arrive in the area first thing in the morning.
Stay in touch with us anytime, anywhere.
Download our free app for Apple and Android and Kindle devices.
Sign up for newsletters emailed to your inbox. Select from these options: Breaking News, Severe Weather, School Closings, Daily Headlines and Daily Forecasts.